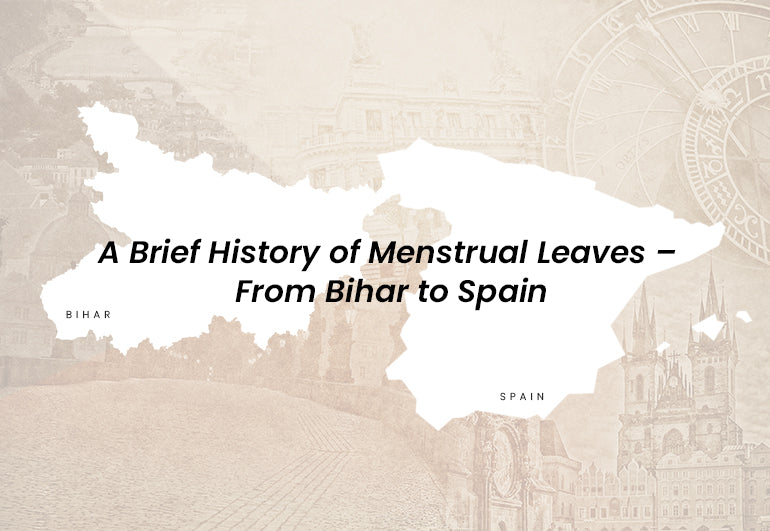 A Brief History of Menstrual Leaves – From Bihar to Spain
We want to start this Be Me blog with an important question: do you think employers will be discouraged to employ women and give them menstrual leave because doing so may disincentivize them?
Let's dive deep into the world of menstrual leaves today and how they have evolved, due to people's continually progressing perception of periods.
BEFORE WE CONTINUE, WHAT IS A MENSTRUAL LEAVE?
Also known as a period leave, menstrual leaves are encompassed within a workplace policy that allows actively-menstruating employees to take time off from work during "that" time of the month.
WHICH COUNTRIES GIVE MENSTRUAL LEAVE?
On 16th February'23, the Spanish parliament approved legislation and made Spain the first country in Europe to bestow paid menstrual leave on its workers.
In Japan, women are allowed to take 1-3 days off each month for their periods.
South Korea gives 1 day off.
Taiwan gives only 3 days off each year!
In actuality, Sweden deserves all the credit for the concept of paid menstrual leave policies, which it was kind enough to introduce back in 2016.
One would think that European countries are actively championing the cause of period leaves. However, Italy still hasn't introduced any such legislation.
Before we move on, we'd like to specially mention companies like Nike that have voluntarily implemented menstrual leave policies for their employees.
WHAT'S THE SITUATION LIKE IN INDIA?
Despite the Supreme Court arguing in favor of women receiving menstrual leave in 1992 during a historic case of S. L. Bhagwati vs. Union of India and Ors., India hasn't been able to make this into a mandatory law.
However, one state which has acted ahead of its time in this aspect is Bihar.
It was in 1992 only that the Bihar government (headed by Lalu Prasad Yadav at that time) introduced a policy that granted female employees two days of paid leave every month.
While this policy received mixed reviews, it was and continues to be hailed as the right step in addressing the specific needs of the menstruating population.
Kerala also followed in Bihar's footsteps by introducing policies that allow female employees one menstrual leave per month.
Even the Delhi government announced in March 2021 that it would provide menstrual leave to all its female employees. The best part is that the leave can be taken on any day of their menstrual cycle and the amount for this leave won't be deducted from their annual leave entitlement.
THE CONCLUSION
When we, as a country, recognize the rights and problems of working women, we become unapologetically ourselves in the most beautiful way possible.
Since the pain experienced by anyone on a period has been compared to pain experienced during a heart attack as per a study conducted by University College London, we believe that more and more Indian states as well as companies should embrace the practicality and necessity of sanctioning period leaves.
Team Be Me sincerely hopes that the society and the governments ingrained within it understand the importance of menstrual leaves and how their existence can increase the awareness of female-centric predicaments and remove the thick layer of ignorance that has permeated the average Indian workplace.
Collection 2019
Sale 70% Off
Title for image