Why Be Me?
Because We Care About You. Period.
Better For Your Health
Made with organic cotton as well as corn and bamboo fibre. These materials are naturally sourced. They feel feathery soft on your body and prevent infections.
Environmentally Sensitive
Our sanitary pads do not contribute to plastic pollution. They decompose faster in the right compost conditions, resulting in green menstruation and an eco-friendly environment.
100% Honest
We are ISO 14001-2015 certified and our sanitary pads are chemical-free, fragrance-free, and anti-bacterial.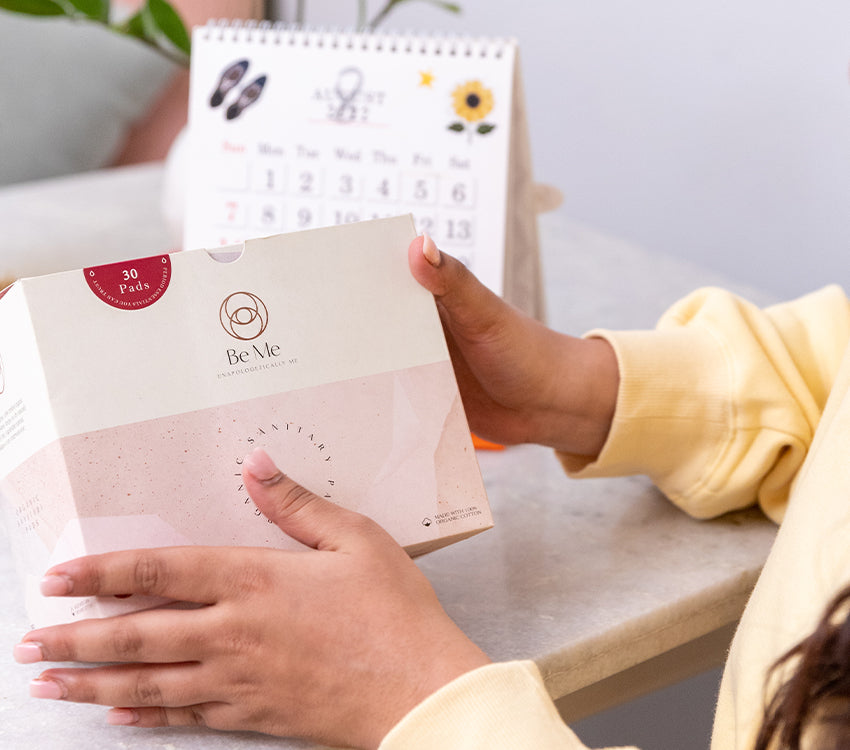 Pocket Friendly
We wish to be able to cater to people from all walks of life as we believe that good quality sanitary pads at low prices are the need of the hour.
Rave Reviews...
From The Be Me Community!

"Words cannot explain how much the Be Me Pads have changed my life."
They absorb well for me. I liked the softness, absorbency and packaging. They come with individual packets that make disposal very convenient. I liked it.

The best sanitary napkins to use! Comfortable, odour less and thin.

Totally satisfied with the product. Yesterday night, I tried the XL pad for heavy flow and It worked. I will order again. Thanks!

This is my third purchase of the product. Really happy with it. Was facing rashes and irritation with the advertised market brands. Thought about giving Be Me a try and there is no looking back.

Bought this for my teen sister. She loved the product.

Who are we?
Be Me is India's first-ever menstrual hygiene brand that offers naturally-sourced and biodegradable period essentials and period pads. We all know how annoying period pain can be. With Be Me, you get the best quality menstruation products. Engineered to be the finest sanitary pads for women, Be Me supports you during painful period cramps by providing you optimum comfort.
What is a sanitary pad?
A sanitary pad is a period care essential made of material that absorbs period blood during menstruation. Most pads are disposable and for one-time use. Many are made of organic cotton while some are made of synthetic materials. Many pads have fragrances to conceal odour however unscented pads are a safer option for a rash-free period. Sanitary napkins come in various shapes and sizes depending on their requirements. Some come with wings that help keep the pad in place and some come without.
Why use Be Me?
Be Me's sanitary pads for women are made from the best quality biodegradable and eco-friendly material. They are completely organic and natural. Be Me has various sizes to choose from. With the option of a variety pack, Be Me is the perfect option for heavy period flow and irregular menstruation. With its eco-friendly material, Be Me sanitary napkins are unscented sanitary pads.
Be Me pads are dermatologically tested, ISO-certified, organic and chlorine free. Made with organic cotton, they are rash-free pads. Depending on your flow, you can choose various sizes. Be Me has regular, large and extra-large pads. One can use the extra-large for those days when you have heavy period flow. The adhesive used for the pad ensures the pad stays in place.
It's important to ensure you use the best quality female intimate hygiene products and Be Me gives you nothing but the best. Be Me period pads are ultra-thin with high absorbance. Be Me pads are leakage-proof. It reduces the feeling of wetness, leaving you comfortable and feeling free.
Be Me packaging
With biodegradable packaging and environmentally friendly elements, Be Me supports the process of green menstruation. Each pad comes in its own little biodegradable pouch that can be carried separately. The packaging is discrete and perfect for clean and neat disposal. The pouch can be sealed and conceals odour. They are the perfect travel essentials. Be Me helps you navigate the tough tides of menstruation.