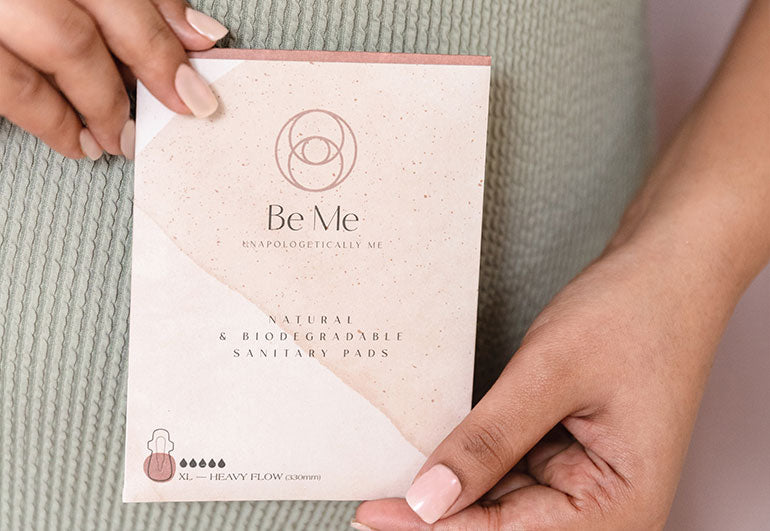 How To Use Be Me Sanitary Pads?
Recently, some of you reached out to us asking how to use Be Me sanitary pads and we're here to answer you in detail.
Before we begin, we'd like to applaud your curiosity. Our community is full of individuals who wish to take an eco-friendly step in the future of menstruation and we LOVE that!
So, here's a step-by-step guide about using sanitary pads by Be Me correctly. Oh, and don't worry. It's not rocket science and you know the process already. There's only a slight plot twist at the end!
1. Choose the right-sized pad.
Before even beginning to use Be Me sanitary pads for your monthly flow, we'd like you to decide what type of flow you have. Is it light? Heavy? Somewhere in the middle? Then, choose the size of the sanitary pads that align best with your flow.
If you don't want to run out of pads soon, we suggest you go for the Combo pack of 12, 30, or 60 sanitary pads.
If you are a first-time customer reading this, we recommend the combo pack only since it includes all three types sizes of sanitary pads together i.e Regular, Large, and Extra Large. By using that, you'll be able to discern which size suits your menstruation cycle.
2. Use the pad correctly.
The plot thickens...or does it? Not yet but almost. Once the product is delivered to your home and when your period starts, take your desired sanitary pad out of the individual pouch it comes in, tear the packaging surrounding it and place it carefully onto your underwear.
Make sure that the wings are secured and fastened so that you don't feel discomfort while moving out and about.
3. Dispose of the pad safely.
Ah, the plot thickens...finally! When it comes to the disposal, we strongly suggest that you do so in the paper pouch the sanitary pad originally came in. Put your used pad in the pouch and secure it with the sticker that's available on the upper part of the pouch.
Once the pad is safely tucked inside, you can discard it.
The thing is, our paper pouches will decompose faster in the soil without harming it. This means, not only do you experience eco-friendly menstruation but also an eco-friendly disposal of the pad used for menstruation.
We hope that you will consider trying out our environment-friendly sanitary pads. Shop here!
Collection 2019
Sale 70% Off
Title for image