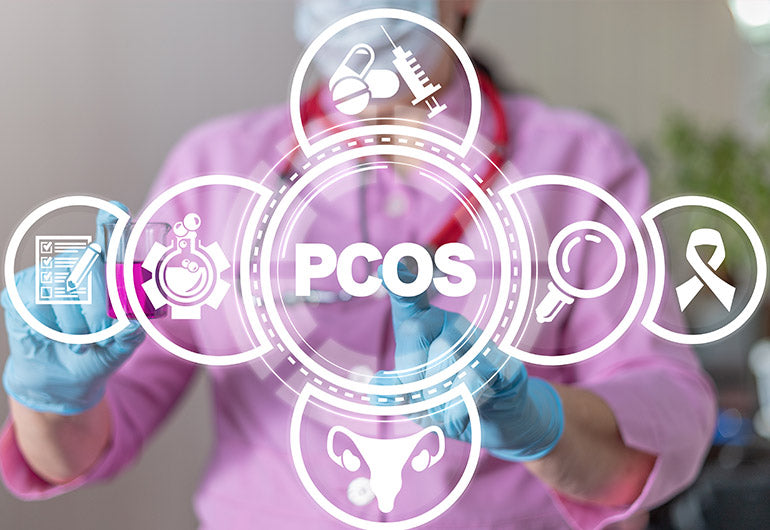 Managing Your Periods with PCOS: Tips to Keep Your Cycle in Check
Are you struggling to manage your periods with PCOS? You're not alone. PCOS is a hormonal disorder that affects all women of reproductive age. It can cause irregular periods, excess hair growth, and weight gain.
An irregular and unpredictable menstrual cycle is one of the most common and frustrating symptoms of PCOS, but this can be managed through a combination of natural methods. In this blog post, we will discuss the symptoms of PCOS and how to manage them.
What is Polycystic Ovary Syndrome?
Polycystic Ovary Syndrome, or PCOS, is a common hormonal disorder that affects 1 in 10 women. It can cause irregular periods, cysts on the ovaries, and various other symptoms. One of the most noticeable effects of PCOS is irregular menstrual cycles, which can be frustrating and uncomfortable.
Why does PCOS cause irregular periods?
PCOS causes irregular periods because it upsets the balance of hormones in the body. One hormone called LH becomes too active and confuses the ovaries, which are responsible for releasing eggs. As a result, ovulation becomes irregular, and periods become unpredictable.
What are the most common symptoms of PCOS?
Irregular Menstrual Periods: Women with PCOS often experience irregular menstrual cycles, which can mean longer gaps between periods or unpredictable bleeding.
Ovulation Issues: PCOS can lead to infrequent or absent ovulation, making it challenging for women with PCOS to conceive.
Excess Androgen Hormones: Elevated levels of androgens (male hormones) can result in symptoms like acne, excessive facial or body hair growth, and male-pattern baldness.
Multiple Ovarian Cysts: PCOS is characterized by the presence of multiple small cysts on the ovaries, which can be detected through ultrasound.
Weight Gain: Many individuals with PCOS struggle with weight gain or find it difficult to lose weight. This weight gain often occurs around the abdomen..
Managing your periods with PCOS
There is no cure for PCOS, but there are a number of things you can do to manage your symptoms and improve your overall health. These include:
Maintaining healthy weight
If you are overweight or obese, losing even a small amount of weight can help to regulate your periods. Speak to your doctor to find out how to reach a more manageable weight, as the same methods don't work for everyone.Eat a healthy diet
Eat a healthy diet
Avoid foods that are high in sugar and choose foods that are high in nutrition like fruits, vegetables, and whole grains. A healthy diet can help regulate your blood sugar levels and reduce inflammation.Managing stress
Managing stress
Stress can make PCOS symptoms worse. Find healthy ways to manage stress, such as yoga, meditation, or spending time in nature.Take medication
Take medication
If lifestyle changes are not enough to regulate your periods, your doctor may prescribe medication. There are a number of different medications that can be used to treat PCOS, including birth control pills.Infertility treatments
Infertility treatments
If you are trying to get pregnant, there are a number of infertility treatments that can be used to help you conceive. These treatments may include ovulation induction medications, in vitro fertilization (IVF), or donor eggs.
Managing your periods with PCOS can be challenging, but it's entirely possible with the right approach. By maintaining a healthy lifestyle, managing stress, and seeking medical guidance when needed, you can take control of your menstrual health and improve your overall well-being. Remember, you're not alone on this journey, and support is available.
Collection 2019
Sale 70% Off
Title for image