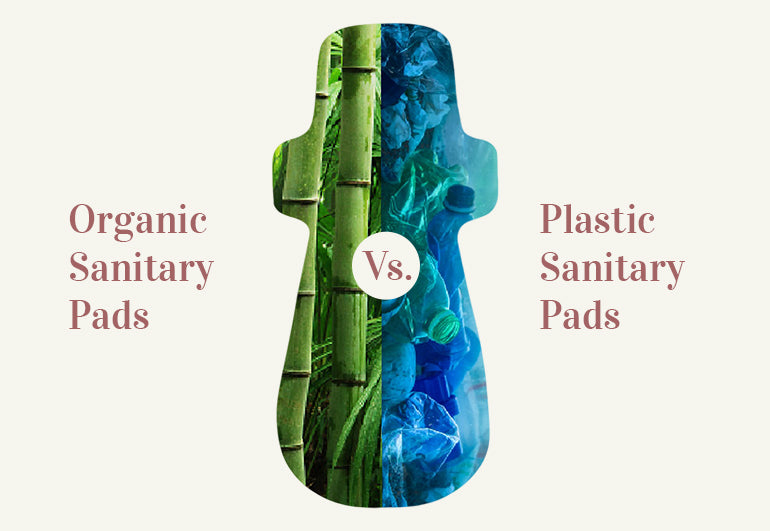 Organic Sanitary Pads Vs. Plastic Sanitary Pads
If there's a topic on which intensive sessions and elaborate debates have been held in the 21st century, it's about whether organic sanitary pads are the best for you or not.
Many experts such as Dr. Suruchi Desai, consulting obstetrician and gynecologist at Nanavati Super Speciality Hospital, Mumbai, and Dr. Uma Vaidyanathan, a renowned gynecologist from Fortis Healthcare, believe that the use of organic sanitary pads is a wiser decision, considering the skin "down there" is prone to absorbing chemicals quite fast.
Naturally, your next step as a consumer would be to opt for pads that don't hurt your intimate areas, right?
And, that's why this Be Me blog exists. Its main goal is to compare Be Me sanitary pads to regular sanitary pads so that you can make an informed decision about your menstrual health.
1. The Material
While our sanitary pads are made of a corn and bamboo fabric top sheet, most of the other sanitary pads are crafted entirely from plastic. By using organic Be Me sanitary pads, you'd be reducing your plastic waste contribution and taking care of your intimate hygiene in a responsible way.
2. The Disposal
The sanitary napkins by Be Me will always be accompanied by a paper pouch which you can use to dispose of the soiled pad. As we all know, paper can always be recycled. However, plastic takes millions of years to decompose.
Plus, most of the sanitary pads available on the market right now do not provide any eco-friendly disposable pouches. So, away with the black polythene in which you have been disposing of your menstrual waste since menarche and in with the sealable, free paper pouches by Be Me!
3. Fluid Retention
Not to boast, but Be Me sanitary pads have 5x more absorbency capacity than the average sanitary pad. This means you can trust your period essential to hold the discharge in and not get it all over your clothing or bedding.
4. The Cost
The consensus on the market is that organic sanitary pads are more expensive than plastic sanitary pads because of their superior quality. But not Be Me! We work away from the norm and deal in affordable sanitary pads that are both gentle on your wallet and gentle on your private areas.
5. Combo Packs
What if you could wear sanitary pads according to your flow? Wouldn't that be smoother than wearing a regular pad during your heavy flow and your light flow?
This was the thought behind introducing Be Me Combo Packs of 12, 30, and 60. You'll be treated to a balanced combination of our regular, large, and extra-large pads. Furthermore, our on-site size guide will also help you understand which pad goes well with which flow.
6. The Ingredients
Since sanitary pads are generally categorized as "medical waste", organizations that manufacture them are not required to reveal the ingredients they make them with. But we operate from an honest and safe space. We reveal our ingredients to anyone and everyone who visits our website. Take a look at this page and you'll know what we're talking about.
There are 6 glaring differences between Be Me sanitary pads and other sanitary napkins. After learning about them, the question is which type of sanitary pad will you invest in?
Collection 2019
Sale 70% Off
Title for image