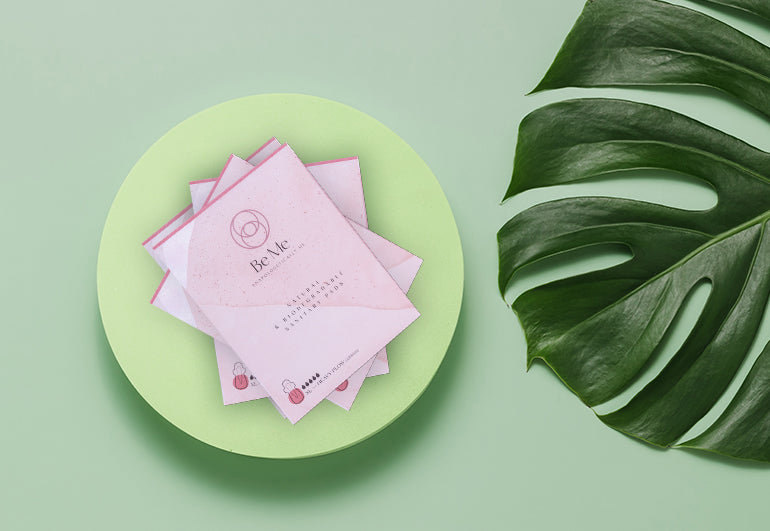 Our Take On Sustainable Menstruation
The thing is, that in this fast-moving digitalized era, the word 'sustainability' has found a home in every aspect of our life.
Whether it's a clothing brand, a lifestyle, or our period, EVERYTHING seems to want to be sustainable these days.
Which makes us think more about our last point – how can you make your period more sustainable? And, are there any benefits to doing so?
Let's find out in this Be Me blog!
First things first, we understand that switching from inexpensive, plastic sanitary napkins that you've been using ever since you started menstruating can be difficult. But hey! If replacing them with eco-friendly sanitary pads helps save the environment one teeny-tiny bit, then it may be worth it, right?
To top it off, when you read news items stating that 12.3 billion disposable pads are added to landfills annually, you might want to reconsider holding on to that potentially hazardous box of plastic sanitary pads.
OKAY, SO WHAT DOES IT MEAN TO HAVE A SUSTAINABLE PERIOD?
It means that you actively try to reduce the amount of waste that your periods produce every month.
The official term is 'sustainable menstruation', wherein you are mindful of the negative effects that disposable sanitary products have on our environment and you endeavour to reduce the plastic waste ending up in our oceans or landfills.
This movement also focuses on giving access to sustainable menstruation products to everybody.
By opting for products that use less plastic or no plastic at all, you make a conscious effort to do something beneficial for the environment! You also reduce your carbon footprint and slow down climate change in the process.
DOES USING ORGANIC SANITARY NAPKINS HELP?
Of course! Sanitary napkins made from organic materials are so much better than plastic sanitary napkins that take ages to decompose or don't decompose at all!
Organic sanitary napkins are made from organic cotton and bamboo – materials that are generally composted easily and do not cause soil pollution.
IS IT TIME TO SWITCH TO BE ME ORGANIC PADS?
We think so. Not only are our sanitary napkins made from organic cotton, corn, and bamboo fibres but they also come enclosed in disposable paper pouches. Once you're done using one of our pads, you can simply enclose it in the pouch that it originally arrived in, seal it shut and dispose of it in a dustbin or another disposable closed space.
The best part is that switching from plastic sanitary pads to Be Me sanitary pads won't hurt your wallet because our products are notably pocket-friendly.
Be Me invites you to embrace the power of sustainable menstruation and be yourself unapologetically.
Collection 2019
Sale 70% Off
Title for image