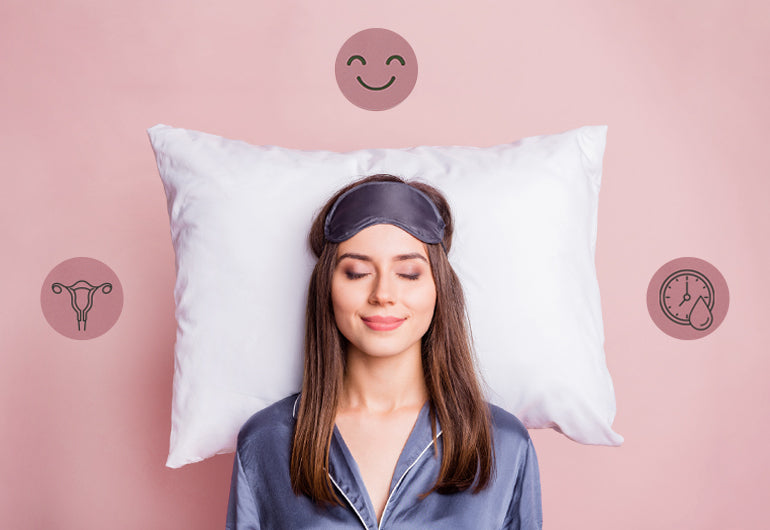 Sleep and Menstrual Health: Optimising Rest for Balanced Hormones
Quality sleep is essential for more than just feeling rested, especially when it comes to maintaining healthy menstrual cycles. Sleep plays an important role in keeping your hormones in check, ensuring your body functions smoothly.
Let's explore how sleep and menstrual health are closely connected, and learn how to optimize your rest for balanced hormones.
The Hormonal Harmony
The menstrual cycle depends on how hormones like estrogen, progesterone, and luteinizing hormone (LH) work together. Disruptions in these hormones can lead to irregular periods, painful cramps, and mood swings. Sleep helps these hormones work smoothly for your well-being. This teamwork of hormones, guided by sleep, keeps you healthy.
Sleep and Estrogen
Estrogen, a key female hormone, regulates your reproductive health. Insufficient sleep can lead to irregular periods and worsened PMS symptoms. Prioritizing sleep keeps estrogen levels steady and supports regular menstrual cycles.
Progesterone and Rest
Progesterone readies your body for potential pregnancy after ovulation. Poor sleep can lead to lower progesterone levels, causing shorter luteal phases and even fertility issues. Optimal sleep promotes healthy progesterone levels and overall reproductive wellness.
Sleep, Stress, and Cortisol
When stress arises, it prompts the release of cortisol, which can impact both your sleep and hormonal equilibrium. However, by ensuring you get enough sleep, you can effectively reduce the production of cortisol, thus preventing any disturbances it may cause to your menstrual cycle.
Tips for Optimizing Sleep
Consistent Schedule: Maintain a regular sleep schedule by going to bed and waking up at the same time every day.
Create a Sleep-Friendly Environment: Ensure your sleep space is comfortable, dark, and quiet. Consider using blackout curtains and eliminating sources of noise.
Limit Screen Time: Reduce exposure to screens at least an hour before bedtime, as the blue light can interfere with your body's production of the sleep hormone melatonin.
Mindful Evening Routine: Engage in calming activities before bed, such as reading, light stretching, or meditation, to signal to your body that it's time to wind down.
Watch Your Diet: Avoid heavy meals close to bedtime and limit caffeine and alcohol intake, as these can disrupt your sleep.
Stay Active: Regular physical activity can promote better sleep, but avoid vigorous exercise too close to bedtime.
Hydration Balance: While staying hydrated is essential, try to limit your liquid intake in the evening to avoid waking up for trips to the bathroom.
To wrap up, remember that sleep is about more than just resting. It has a significant role in balancing your hormones and maintaining menstrual health. By making sure you get regular, quality sleep, you are taking steps to keep your periods on track, ease PMS symptoms, and support your reproductive well-being. Give these simple sleep practices a shot for a happier, more balanced hormone experience.
Collection 2019
Sale 70% Off
Title for image