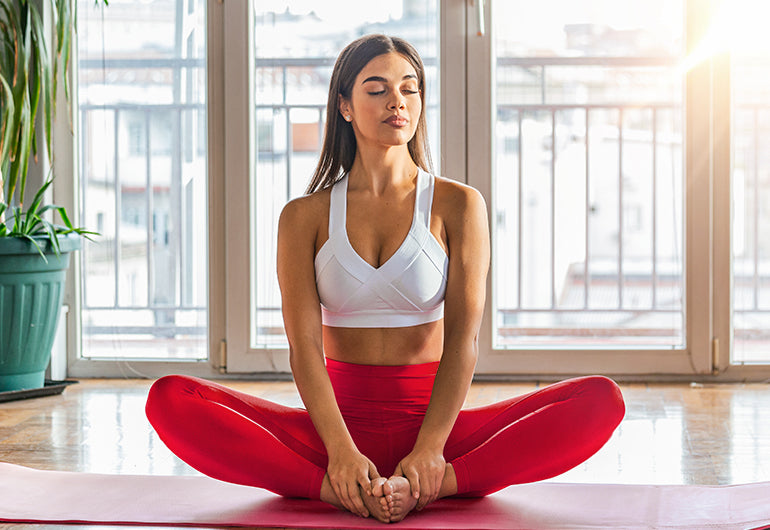 Soothing Period Cramps with Yoga: Try These Easy Moves
Are you frequently bothered by those uncomfortable period cramps? You are certainly not alone in this. Experiencing painful menstrual cramps can leave you looking for a solution that is effective and sustainable. And guess what! Yoga offers a natural solution to address this problem that works and takes care of you in the long run.
In this blog, we will explore how incorporating yoga into your routine can serve as a reliable method for managing those painful cramps. It offers gentle stretches and poses that can help reduce menstrual pain and bring relief.
How does yoga help relieve period cramps?
Yoga helps with period cramps in various ways. It relaxes pelvic muscles, improves blood flow, and reduces stress, which can make cramps less intense. Regular yoga also makes your core stronger and more flexible, which can lessen the intensity of cramps. Plus, it teaches you to be more aware of your body, helping you manage pain during your period.
5 Powerful effective yoga poses for menstrual pain
Child's Pose
To practice child pose, start by kneeling on your mat with your knees apart and bring your upper body forward, resting your forehead on the ground. Extend your arms in front of you and take slow, deep breaths. This pose stretches the lower back and abdominal muscles, providing relief from cramps.
Cat-Cow Pose
To practice the Cat-Cow Pose, begin on hands and knees. Inhale as you arch your back, lifting your tailbone and gazing upwards, creating the Cow Pose. As you exhale, round your back and gently tuck your chin towards your chest, assuming the Cat Pose. This motion eases the abdomen and lower back, reducing cramp discomfort.
Bridge Pose
To practice bridge pose, Lie on your back, bend your knees, and place your feet flat on the floor hip-width apart. Press into your feet and lift your hips while keeping your shoulders and feet grounded. This pose opens the chest and promotes pelvic circulation.
Supine Twist
To practice supine twist, lie on your back, bend your knees, and bring them toward your chest. Extend your arms to the sides and let your knees fall to one side while looking in the opposite direction. This twist helps in releasing tension in the back and abdomen.
Bound Angle Pose
The Bound Angle Pose, also known as the Butterfly Pose, involves sitting on the floor, bringing the soles of your feet together, and gently allowing your knees to drop towards the ground. This posture is beneficial during periods as it helps alleviate discomfort by easing tension in the lower abdomen and promoting relaxation.
Remember, the key to practicing yoga for menstrual pain relief is listening to your body. Be gentle with yourself and never push past your limits. If a pose feels too intense or uncomfortable, modify it or skip it entirely. It's also important to consult your doctor if you have any underlying health conditions or concerns.
Adding these easy yoga moves into your menstrual care routine can help ease period cramps and make your monthly cycle more manageable. Take some time for yourself during your period and give your body the care and attention it deserves.
Collection 2019
Sale 70% Off
Title for image