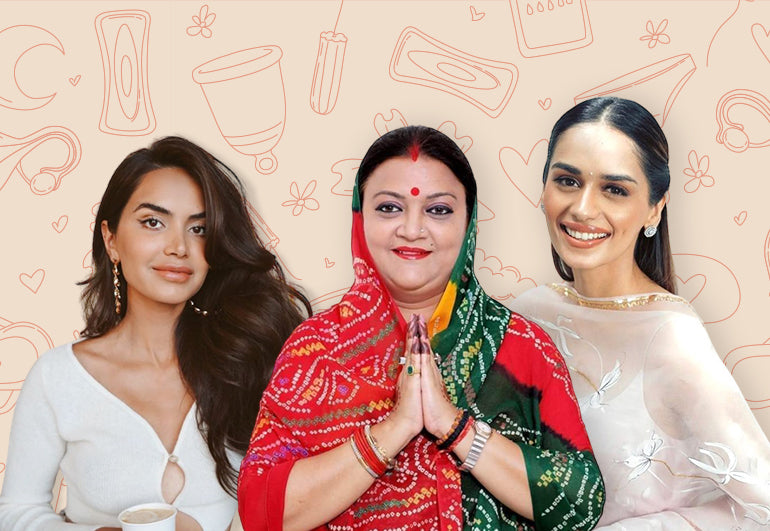 3 Indian Women Who're Changing The Way The World Perceives Periods
There's a phrase that we like to repeat often: women who bleed together stick together. After all, in a taboo-riddled India, Indian women need to step forward and talk more openly about menstruation and menstrual hygiene.
The time to change the narrative around periods has begun and the torchbearers for it are women. That's why we have handpicked three leading ladies for this blog that have candidly spoken out against menstrual bias and advocated for safe menstruation in the past.
Would you like to know who they are and the contributions they have made to the case of clean and green menstruation?
Let's start with...
Diipa Khosla
She is a renowned lifestyle influencer who partnered with UNICEF India in 2021. She's also responsible for starting the Red Dot Challenge - a social media campaign that encouraged her followers to post pictures with a red dot on their palms. The aim behind this challenge was to start a conversation on periods and create a positive mindset around them.
Mamta Bhupesh
She is an Indian politician and current Minister of Women and Child Development, Public Grievances Redressal, Minority Affairs, and Waqf in the government of Rajasthan. The minister is quite vocal about menstrual hygiene awareness and often appears on talk shows for the same.
In 2022, she also launched a state-wide outreach campaign to spread awareness about menstrual hygiene. The campaign entailed discussions about gender issues at district levels with the intent to educate women about the usage of sanitary pads and the infections spread due to the incorrect practices followed while menstruating.
The campaign was launched under the Udaan scheme of the state government under which six sanitary pads are distributed every month to every adolescent and menstruating woman.
Manushi Chillar
Miss World 2017 has made it clear that she is all in for great menstrual management that's based on a sustainable model. She also started Project Shakti to propagate the idea of world-class menstrual hygiene and educate the rural population about it.
Just like our Project Aparajita, she has taken the initiative to supply sanitary pads in Indian villages.
Her philanthropic step inspired the Haryana CM Manohar Lal Khattar so much that he also started providing free sanitary pads in government schools.
Doesn't reading about such inspiring Indian women inspire you as well? It makes us want to shout from the rooftops that PERIODS ARE NORMAL and THAT THEY SHOULDN'T BE STIGMATIZED ANYMORE. But that's just us.
What do you think you can do in your life to destigmatize periods? Because you know what they say - charity and menstruation awareness begins at home!
Before we part, let us know if you'd like to read about more women in the spotlight who are motivational menstrual hygiene activists.
Collection 2019
Sale 70% Off
Title for image